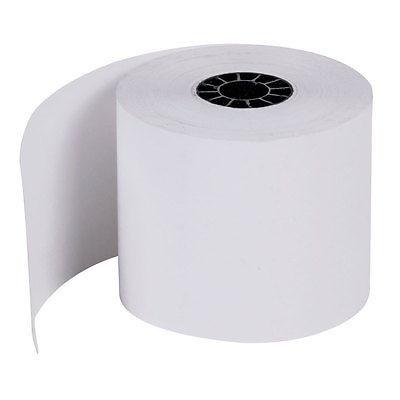 ITEM# 2230 - 2-1/4" x 230' Thermal Receipt Paper POS Cash Register Rolls Veeder Root - 50 Rolls
ITEM# 2230 - 2-1/4" x 230' Thermal Receipt Paper POS Cash Register Rolls Veeder Root - 50 Rolls
Regular price

Sale price

$45.00
PLEASE READ BEFORE PURCHASING:

 WE DO NOT SHIP TO RESIDENTIAL ADDRESSES.

 *** FREE SHIPPING ONLY TO COMMERCIAL ADDRESS IN CONTINENTAL USA ***
Brand New. Factory Direct.
2 ¼" (58MM) x 230' (3" diameter) Thermal Roll Paper, 7/16" core, CSO, 50 rolls/case, BPA FREE
* Width: 2 1/8" (58mm)
* Diameter: 3" (76mm)
* Length: 230' 
* Core Size: 7/16" Inner Diameter & 7/8" Outer Diameter
* Premium Quality "MADE IN THE USA"
* End of Paper Roll Warning Stripe
* 5+ Year Image Life
* 48 gram / 2.1 mil
 * BPA FREE
There is a growing concern over the potential human health effect of the exposure to Bisphenol A (BPA) in a wide variety of products.  We are committed to offering safe products for our customers and this thermal paper roll is BPA FREE. 
This 2 ¼" x 230' Thermal Paper Roll fits:
·

        
AZT P281-PD Thermal Printer
·

        
Casio 1600, Casio CE-T100, Casio CE-T300, Casio PCR-T280, Casio PCR-T465, Casio PCR-T470, Casio PCR-T2000, Casio PCR-T2100, Casio TE-900, Casio TE-1500, Casio TE-2000, Casio TE-2200, Casio TE-3000, Casio TE-4500, Casio TE-7000S, Casio TE-8500F, Casio TK-950, Casio TK-1550 
·

        
Citizen CBM262, CBM270
·

        
Eltron LP2022
·

        
Epson TM-L90
·

        
Gasboy TMS 500 Tank Monitor
·

        
Gilbarco/Marconi Commerce 4414
·

        
Hypercom T7P-T, T7PT, T7Plus
·

        
Hypercom 4705, T4100
·

        
Royal Alpha 583cx , Royal Alpha 600sc, Royal Alpha 9155sc
·

        
Samsung ER-650,ER-650R, ER-650SS, ER-5200, ER-5215, ER-5240
·

        
Sharp 01PU, 01PU, ER-A450T, ER-A520, ER-A530, UP-700, XE-A102, XE-A201, XE-A202, XE-A302
·

        
Star FVP-10 
·

        
Towa/TCA/Konic EX300
·

        
Veeder Root TM2, TM3
And many more!
Couldn't load pickup availability